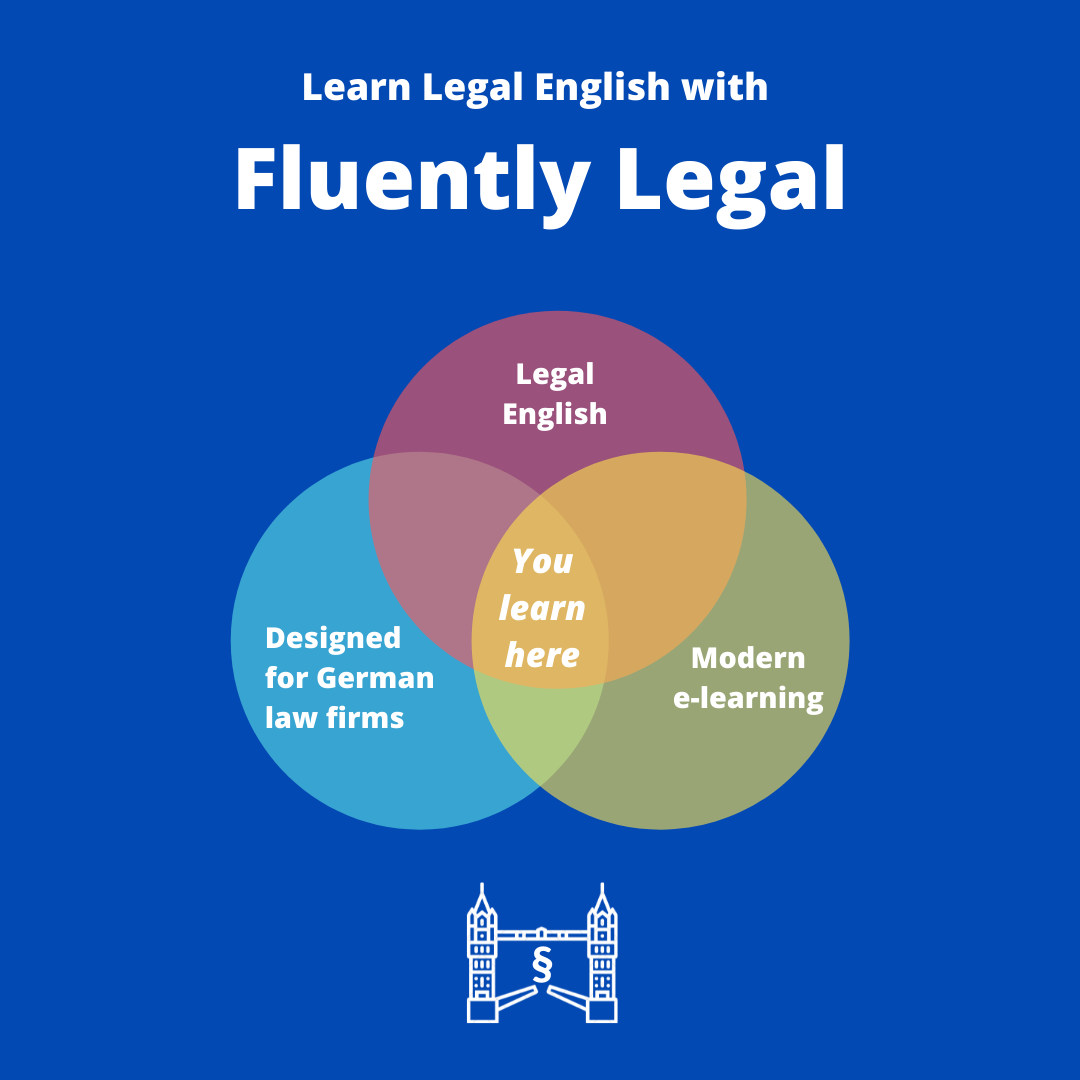 Benefit from the twofold innovation of Fluently Legal.
1. Legal English that incorporates German law to communicate in today's international world.
2. Multimedia online learning that fits in with your busy schedule.
1. Legal English with German law in mind
We started Fluently Legal because we noticed a gap in traditional legal English teaching: while there are excellent legal English courses and materials already out there, they typically don't cover anything about local law. Yet this is the very thing legal professionals in Germany need English for the most.


Legal professionals in Germany today need English more than ever, but in the vast majority of cases they don't need it for Anglo-American law, or even to communicate with native English speakers. Instead, they increasingly need English to talk about local German law, and they do so with clients and colleagues from all over the world. English is no longer tied to English-speaking countries – it's a lingua franca, a common international language for talking about the law.


Traditional legal English courses only focus on Anglo-American law
Despite this, legal English courses are still centred around teaching English law. They often almost seem like courses on the English legal system because you seem to learn as much English law as you do English. The question is how this helps you at work when you need to explain local legal matters to Japanese clients or Dutch colleagues.


To make matters worse, Anglo-American law is extremely different to the Civil Law of Continental countries like Germany. Traditional English legal language developed for use with the English Common Law, so it when you need to describe German law it becomes quite inadequate. The result is that half of what you learn you don't need, and half of what you need you don't learn.


Fluently Legal bridges the gap
Fluently legal bridges this gap by providing courses based on English you can also use for working with the German legal system, English you can use at work that fits the actual situations you face – without the English you don't. Each course has been developed and the vocabulary in each lesson specially selected on the basis of German law.


In the lessons we explore both the similarities and the differences between the two legal systems, and how this is reflected in the English we can use. We look into concepts and terms that frequently cause difficulties on either the German or English-speaking side, and how to resolve them. We especially look at the English vocabulary we can use (and equally as important, the English vocabulary we cannot use) in order to communicate effectively and accurately.


On Fluently Legal courses, you will learn to identify and the overcome linguistic and cultural barriers between the German and English-speaking cultures and build on your English skills in communicating with international clients and colleagues.


2. Online multimedia learning – the future of learning
Online technology is revolutionising education. Learning has been liberated from the classroom and fixed schedules – now you can learn anywhere, any time. This is good news for legal professionals like you who are busy with careers and private life, and who have little time (or energy) left for courses and classes.


That's why Fluently Legal courses take place 100% online, so you never need to miss a class or fit another regular appointment into your busy schedule. Learn at your own level and at a pace that suits you.


Digital learning offers many more opportunities
As the digital revolution begins to affect more and more of our lives, the way we learn is also evolving. Online learning presents so many more opportunities than a traditional, class-based environment. An online course is not a second-best option when it's not practical to take a language course in person. It's the future of learning and increasingly the best option.


We have designed Fluently Legal English courses to take advantage of online, multi-media learning. We incorporate up-to-date research into online learning so that we can offer you a platform to learn and practice. Our courses are built with modern, user-friendly software allowing you to take advantage of a multimedia learning environment. Watch videos from instructors, listen to audio exercises, do vocabulary learning exercises and assignments online, and track your progress – all at your own pace.

Get regular emails on legal English and notifications about courses.
Created with